January 13, 2008 - Sunday
Ethan: Mom, I'm vaccumming! This is my special way of cleaning these things up!
Now, if you know Ethan at all, or if you've read any of my older blogs, you should be asking yourself WHAT are these things he's trying to clean up??
I'll give you three guesses............
NOPE that's not it............guess again......
Wrong again........one more try.......
No, sorry! That's not it either. GIVE UP?
...
...
...
...
...
...
PEAS. Yes, peas. Ethan is sitting and eating dinner. His special request for dinner was green beans and peas. Nothing else. Just peas and green beans. No taco, no burrito, no pb & J, just veggies. Okay by me. At least it's healthy! (My 5 year old loves broccoli too!)
So he's eating, and I hear this huge slurping sound, so I ask him what he's doing. And I get the "Mom, I'm vaccumming! This is my special way of cleaning these things up! SLURRRRPPPP....." as my answer. And he is actually sucking up peas like a Hoover vaccuum.
O-kay...(guess I need the camera for this one....)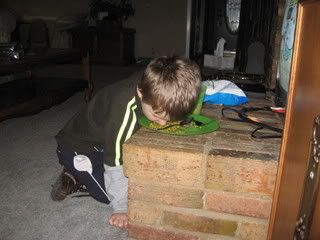 Yes, I know I'm a terrible mother. I should be teaching him better table manners, not taking pictures of him vaccumming up peas. But it was too funny to not get on camera!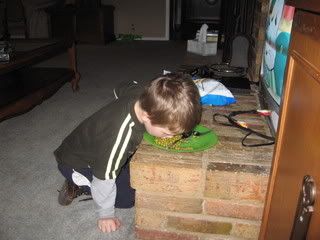 I snapped another picture, and it just wasn't getting the full effect. You have to see it and HEAR it too......Sooo........ Here you go. I'm sharing the love. Make sure your volume is on so you get the full effect and don't miss the surprise ending!
Now, I never expected for him to get peas up his nose. How lucky am I to get that on film? How exactly does one suck something up the nose while sucking stuff into the mouth? I didn't think that was physically possible, but of course my EB can do it! :) I'm a terrible mom to think that's so funny too, but it was hilarious. By the way, the peas came right back out of his nose, and that was the end of the pea vaccuumming!
It's been awhile since Ethan has done something TRULY hilarious. This is not quite PANDA video funny, but I was still laughing my butt off!! Bad mommy!
Old myspace comments
ask joe about peanuts in the nose. Or do you know that one??????
Posted by
Sooner96
on January 15, 2008 - Tuesday at 1:04 AM
priceless!!! LOVE IT! Posted by Christina on January 25, 2008 - Friday at 1:12 PM