December 19, 2007 - Wednesday
Cute...
Category: Life
Uncle Aaron used to turn the pictures on the walls upside down
when we were younger to see if our mom would notice.
I found this over Ethan's bed a couple of weeks ago.....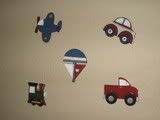 *****************************************************
Ethan's class decided to give the teacher gift cards instead

of gifts this year, and the kids are all decorating their card to
hang on the giving tree in their room. Ethan decided to

MAKE her a pink Christmas tree........


She should be very flattered because under normal

circumstances he wouldn't have even touched that pink paper
or those hearts!! On the back he had me write her this note:
Dear Mrs. Thompson,
I love you so much, and I love doing my work at school.

I love my schoolwork every time and I love centers everyday.

And I love cutting stuff with my work.

Then he signed it with his name and a picture of himself.


Later he added a picture of her handing him a piece

of paper for work to do ! LOL....


He's such a nice kid!