January 8, 2008 - Tuesday
He strikes again
Category: Life
Okay, the 'upside down art' bandit has struck again....this time in the boys room....
And here he is..........the artist formerly know as "EB":Actually, I do think I remember him telling me that we are all supposed to start calling him "Rex" when he turns six. Get ready everyone!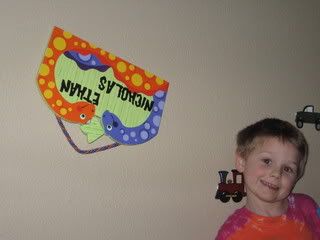 And not to be left out, poor little Nicholas with a fever and ear infections really ate lunch today for the first time in several days. Applesauce, JELLO, and american cheese........YUM-O! Hey, he's happy, right?
How long do you think it will be before "Yum-O" ends up on one of those banned words lists?